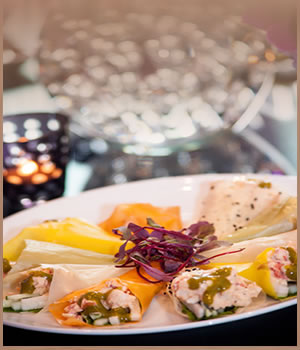 Imagine your event unfolding flawlessly and you having nothing to do but relax and savor the compliments. For more than 15 years the team at Indie Culinaire has been executing memorable events that keep people talking.

Comprised of a distinctive group of accomplished celebrity chefs, caterers, artisinal spirit companies, internationally acclaimed floral designers, event planners, vintners, public relations experts, photographers and journalists, we seamlessly deliver spectacular results from an intimate dinner for four, to events in the thousands.
Whether it is a launch party, an elegant fete, or a charity gala, Indie Culinaire is at the ready to deliver results that will tantalize your guests and if desired, make the media stand up and take notice.

We bring the breadth of our resources and attention to detail to each and every event. We are proud to boast that our team includes James Beard Award winning chefs, an award winning event planner who handled the wedding for the Princess of Qatar and top photographers, just to name a few. Whether you fancy elegance and tradition, or modern innovation, Indie Culinaire will deliver the desired results-every time. Whether you're looking for an overall event designer, or just a helping hand in managing the planning process, we are available to work with your needs.

We offer you a wealth of knowledge, gently guiding you through the planning process so you can make informed decisions and realize your vision. No detail is left untouched as Indie Culinaire meticulously produces every element from menu selection to venue choice, flowers to furniture, lighting to linens, staging to sound, entertainment to ambiance. We take pride in our signature expertise of honing in on and executing every last detail that our savvy clientele appreciates.

We specialize in clients with time constraints who prefer to utilize our full-service, meticulous orchestration from conception to completion. Our expertise is guaranteed to reflect your personality as well as cutting edge styles and trends. Indie Culinaire produces each and every event with the utmost creativity, energy, and dedication to give you the most unique event experience possible. Our long-standing relationships with valued vendors from around the world combine to insure that every Indie Culinaire affair is executed flawlessly.